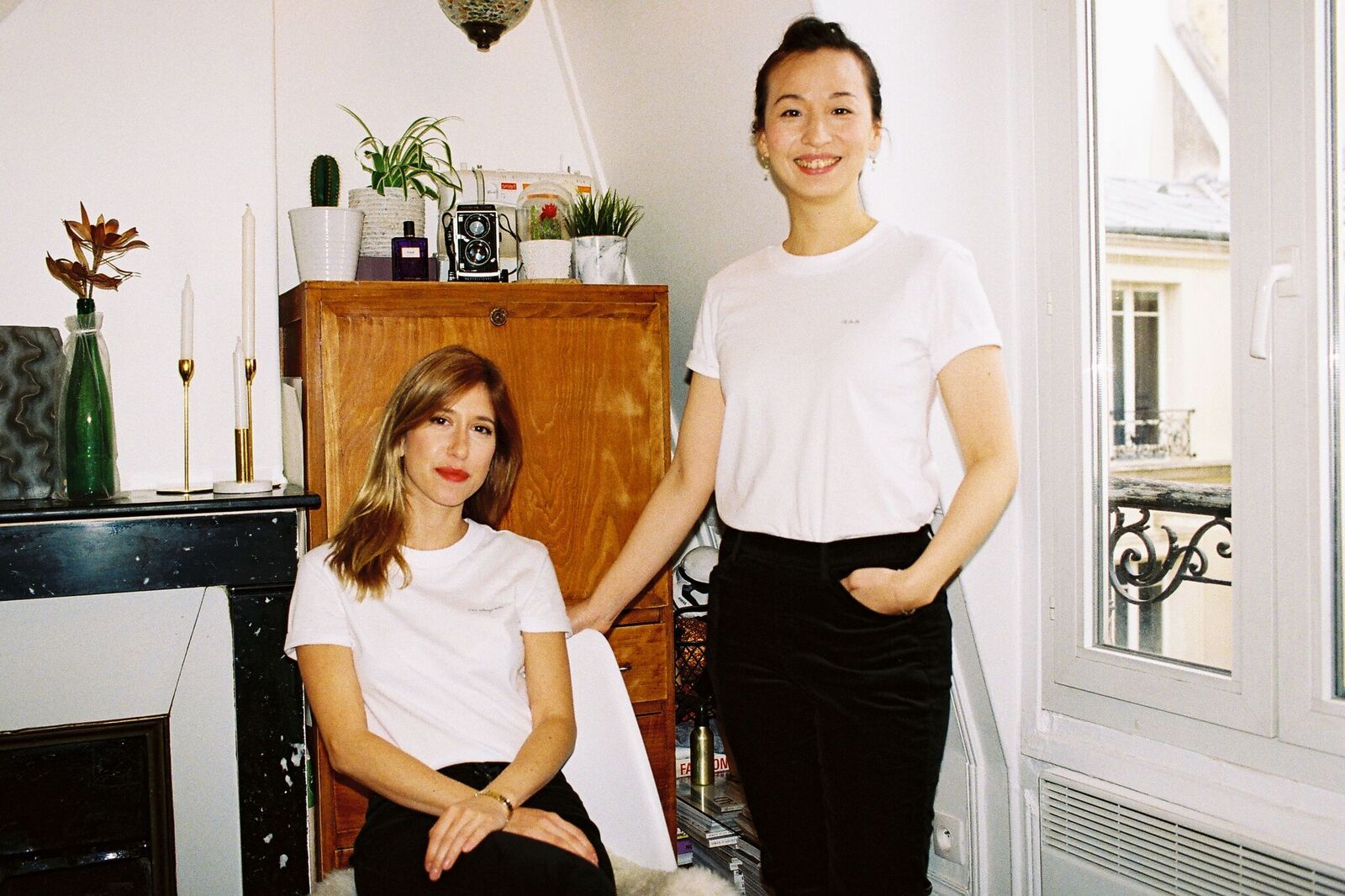 Les Sublimes – Entrepreneur et mode éthique, un entretien en toute transparence
Nous voilà déjà arrivé au dernier article du mois sur notre créateur Les Sublimes. Cette semaine, Alexis Assoignon, co-fondatrice de Les Sublimes a accepté de se livrer à une interview toute en transparence sur la vie d'entrepreneur.
Entrepreneur et mode éthique, un entretien en toute transparence
On voit souvent la mode comme un milieu glamour dans les designers oscillent entre les dessins de leur collection et les retouches des vêtements, maniant le ciseau comme un peintre son pinceau.
La réalité est tout autre et lancer une marque de mode aujourd'hui est un vrai challenge. Outre la compétition que représente les nombreuses marques sur le marché (oui, même quand on parle de mode éthique), un label de mode est aussi (et surtout) une entreprise régit par des lois et un cadre bien précis.
En réalité donc, la vie d'un créateur de mode oscille plutôt entre les négociations avec les ateliers de fabrication, la communication, la comptabilité et l'adversité administrative. Tout un programme !
1- Le plus gros challenge que tu as rencontré en lançant Les Sublimes ?
Le plus gros challenge est et reste encore la production. S'il s'agit déjà d'une étape compliquée pour toutes les marques de mode, elle l'est encore plus pour les marques de mode éthique. En effet, il n'y a que peu d'ateliers de fabrication qui respectent les valeurs de l'éco-responsabilité et peu de tisserands qui proposent des matériaux à faible impact écologique. En plus, nous n'avions pas de connaissance dans ce domaine quand nous avons lancé Les Sublimes. Nous avons certainement fait des erreurs en chemin mais nous avons surtout beaucoup appris. Nous sommes maintenant capable de comprendre tout de suite quand un atelier propose des prix trop bas pour qu'il y ai une éthique derrière ou au contraire les ateliers qui proposent des prix trop élevés pour être honnête.
2- Femme et entrepreneur, une double peine ?
Nous avons eu la chance d'être soutenus autant par des hommes que par des femmes depuis le début de l'aventure Les Sublimes et nous ne nous sommes jamais sentis jugés ou mise à l'écart du fait de notre genre. Les valeurs que nous essayons de transmettre par notre marque ont également aidées pour attirer des personnes qui partagent notre vision.
Par ailleurs, la mode est un domaine dans lequel les femmes atteignent des postes à responsabilités. Nous avons eu des pionnières comme Gabrielle Chanel, Jeanne Lanvin ou plus récemment Miuccia Prada et Diane Von Furstenberg.
3- Comment surmontes-tu une mauvaise journée ?
Un verre de vin ça compte ?
Plus sérieusement, le fait d'être deux dans l'aventure aide beaucoup, nous pouvons ainsi encourager l'autre pour passer outre une journée difficile. Parfois bien sûr, plein de choses ne vont pas et nous sommes toute les deux un peu découragées. Dans ces moments là on essaye de se poser ensemble, d'en parler et de voir comment on peut tirer le meilleur de la situation et surtout faire en sorte que le problème ne se reproduise pas.
Quand on lance une marque, il y a forcément des bons et des mauvais jours, c'est important de le savoir. Il faut être reconnaissant pour le travail que nous faisons ce qui est une bonne raison de continuer.
4- Ta plus belle récompense ?
Savoir que l'on travaille pour faire bouger les choses, pour une cause plus importante que nous c'est déjà une belle récompense en soit. Et puis, il y a le bonheur d'être son propre patron, la flexibilité, la liberté de monter son entreprise selon nos propres règles et valeurs.
Même les jours difficiles (quand on fait notre compta ou qu'on passe notre journée à trimballer des sacs de vêtements à travers le métro parisien) sont plus gratifiant que n'importe qu'elle journée à travailler pour quelqu'un d'autre. Tout ce que nous construisons c'est pour nous et pour nos valeurs. Et en plus on s'amuse en le faisant !
5- Quels conseils donnerai-tu à un futur entrepreneur ?
Je lui dirais que lancer une marque est beaucoup plus dur que ce que l'on pense et que ce n'est pas pour tout le monde. Les probabilité de succès sont plutôt minces. Mais si vous voulez vraiment vous lancer, vous n'avez rien à perdre. Au moins, vous n'aurez pas à regretter de ne pas avoir essayé. Le pire qu'il puisse arriver est que cela ne fonctionne pas. Le seul échec c'est si vous n'essayez pas.
Si vous souhaitez vous lancer, renseignez vous un maximum auprès de gens du milieu, prenez des conseils et si vous avez la possibilité, travaillez pour une société qui fait ce que vous avez envie de faire pour apprendre et voir les erreurs à ne pas faire pour votre propre entreprise. Commencez à réfléchir à votre transition vers l'entreprenariat (comment vous allez vivre, combien de temps vous pouvez tenir avant d'être rentable). Faites un plan sur 3 ans et lancez vous. Et surtout, préparez vous à travailler comme vous n'avez jamais travaillé avant !
---
We are reaching the end of our designer of the month focus on Les Sublimes. This week I share with you an interview of Alexis Assoignon, co-founder of Les Sublimes on the behind the scenes of an entrepreneur's life.
Entrepreneur and ethical fashion, a transparent interview
Fashion is one of those glamour field in which you easily imagine a designer spending his days between his sketches and the touch up on the current collection. However, launching a fashion label in today's world a real challenge. Fashion labels are companies which have to abide by laws and rules.
In reality, the life of a fashion designer is more likely to be spent between accountability, communication and negotiation with the factories.
1- The biggest challenge you had to face when launching your label
The biggest challenge was, and continues to be, production. If production weren't tough enough as it is, add to that the limitations of sourcing ethical manufacturers and eco-friendly fabrics, plus the fact that we started with zero experience in this domaine. Let's just say that it's been a steep learning curve! We've definitely made some mistakes along the way and had to take the extra time to figure things out for ourselves, but this helps us to really understand our products and our entire supply chain, which is so important if we want to run a responsible brand and company. We know when factory prices sound too cheap to be fair, or too expensive to be honest. We've developed an eye for quality and detail that we never imagined. So in a way, what has been such a challenge (not to mention the source of a few grey hairs!), has also made us a stronger, better brand. It's just part of the process.
2- Entrepreneur and women, double trouble?
We've be so fortunate to have the support of countless incredible men and women from the moment we decided to create Les Sublimes. We've never felt judged or held back as female entrepreneurs, even when we were working from tech-focused incubator Station F, where we were definitely outnumbered by the guys. With the #metoo movement and all of the stories that have been surfacing recently about women in the workplace, we can't help but feel incredibly fortunate.
Maybe the fact that we're working to build a business with such strong values has helped. We tend to attract people who are so excited to get involved with our purpose. These are people who are actively taking a stance to support women and fair wages, so not exactly your Harvey Weinstein types… We've had both male and female bankers, advisors, lawyers and investors pushing for our success from the very beginning because they believe in Les Sublimes.
Working in fashion, an industry largely dominated by females, has also made it easier for us to succeed as women. It's almost like, if you're in fashion, then being a woman is accepted. Fashion is one of the few industries where women often rule. So there is no questions about whether a female should be promoted, whether she should lead, whether she can handle a challenging situation or work hard. Pioneering women like Chanel, Jeanne Lanvin, and more recently Miuccia Prada and Diane Von Furstenberg, have already fought this battle for us.
3- How do you cope when you have a bad day?
Does wine count?! Being based in France has its benefits!
But seriously, I would say that having a business partner is a huge asset. We don't often have our bad days on the same day, so there's usually one of us ready to inject the situation with a positive attitude and an encouraging pep talk. Sometimes things go wrong in a bigger way, and we can't help but both feel discouraged. In moments like this, it's just nice to know that we are not in this alone. Sometimes we need to take a break from the problem for a few hours so that we don't stress out completely, and then we talk about the issue, break it down, and work on finding the best possible solution. We compare our options and just try to make the most of things. And of course, we identify what we can learn from the situation to make sure that it doesn't happen again. Launching a brand will always have ups and downs, but it's just part of the journey. Knowing that this is normal, and feeling gratitude for the work we get to do, is a pretty good reason to keep going.
5- Your best reward?
Doing work that we believe can make a difference, that has a bigger purpose than ourselves, is a huge reward in itself. Then there's the joy of being our own bosses. The flexibility, the choices, the freedom to build a business according to our own rules…it's huge! Even a tough day or a less glamorous day (for example when we do accounting or when we have to log heaving bags of clothes around Paris on the metro) is still more rewarding than any good day working for someone else. Everything that we're building is for us, and for our purpose. And we're having fun while we're doing it.
5- What would you like to tell to future entrepreneurs?
I would say that starting a business is harder than you could imagine and that it's not for everyone. Heck, the odds are stacked against long-term success. But if you are at all interested in launching a business of your own, you have nothing to lose in trying. At least you won't have any regrets about not going for your dream. The worst thing that can happen is that it doesn't work out, and maybe you will want to try again, and maybe you won't. But what counts is that you gave it a shot. You only fail if you never try, if you don't dare to dream.
When considering launching your own company, we recommend talking to as many people as possible who are already doing what you want to be doing. Get advice about what it's like, how you get started, legal, accounting, sales, budgeting, everything! If you can, try working for someone in this field first. Don't learn from your own mistakes if you can learn from someone else's. Find out what the business is like and if this is something that you could see yourself doing 80 hours per week. Build your personal roadmap for switching into the entrepreneurial lifestyle (how will you live, how much time do you have to be profitable, etc), create a 3-year plan for your business, and just do it. And get ready to work harder than you've ever worked before ;)