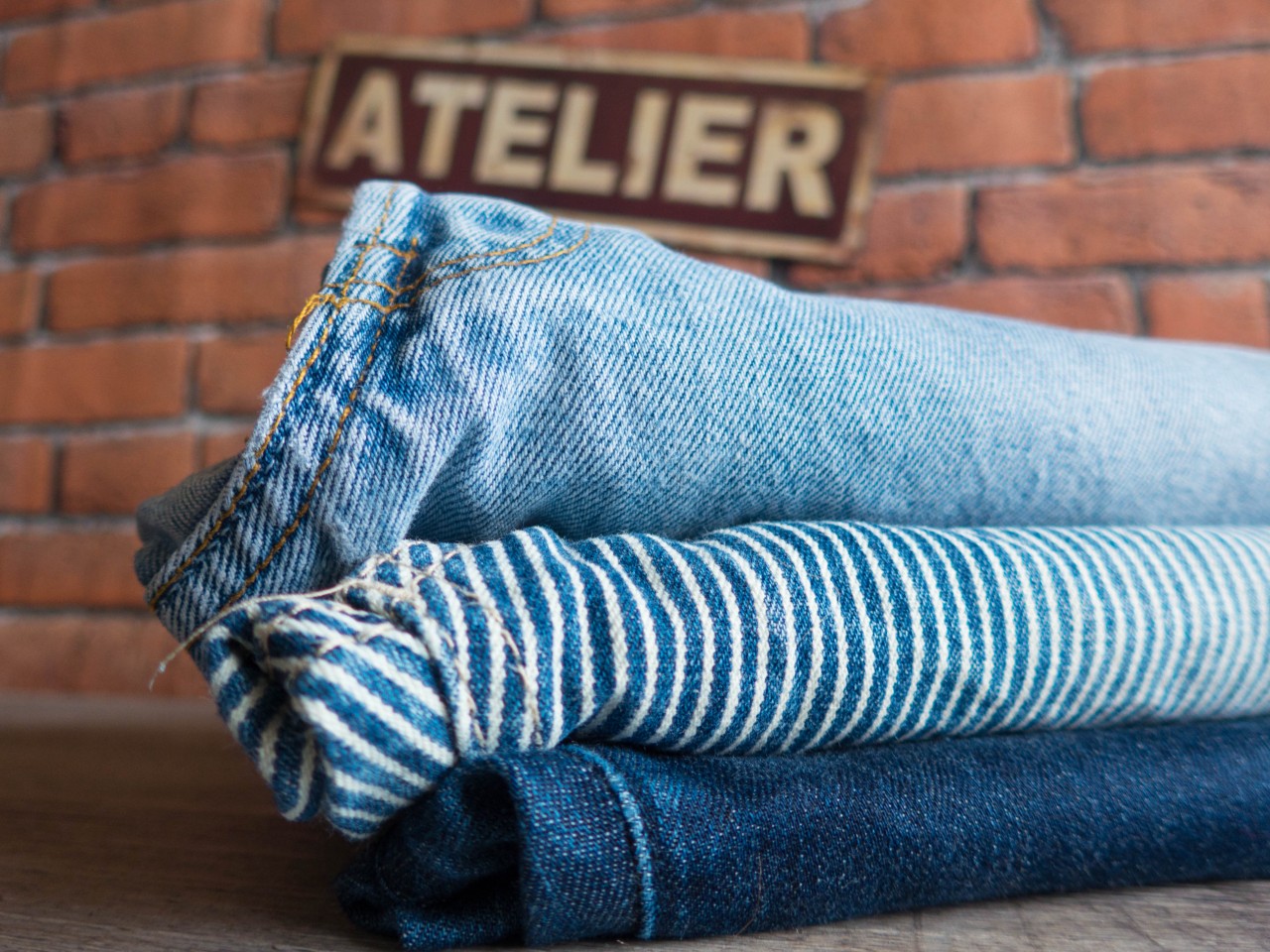 Basics instincts
For the past few months I have been sharing with you informations about slow fashion designers. Yet, I have disclosed few informations about myself.
As the website is called The New Wardrobe, I thought it would be a good start to invite you among my clothes.
Today I will share with you my basics, the clothes which are the roots of my style.
Let the tour begin !
1- Shirts
I think that shirts are really the base of my wardrobe and actually if I had to choose only one garment to wear it would most certainly be a shirt.
The first one is a white, sartorial shirt from a Japanese designer. Ken Okada is a designer with whom I worked when I first arrived in Paris. This particular shirt is the first item of her collection that I ever saw and I instantly fell in love with it. I love the graphic and original collar which turns a classic white shirt into a statement garment.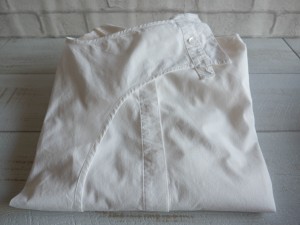 This light blue one was one of this year Christmas present I received from my fiancé. Once again, the collar turns a classic shirt into a piece of clothing to remember.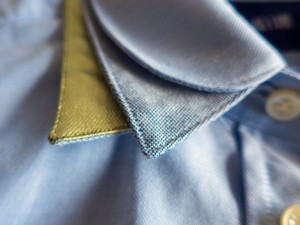 This one comes from Reformation. I bought it in New-York last November. Since then, I have been playing with it almost every week : putting it under a sweatshirt or wearing it with a bowtie.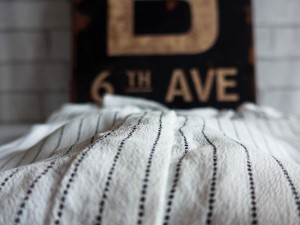 This bright orange one is also one of my Christmas present. I have been wanting to have a silk shirt from Maison Standards for quite some time now but I was actually more expecting white when opening the present wrapping. At first I got a little scared at the bright colored garment, thinking that it would wear me off as I am quite pale skinned. However, I was actually surprised to see that it was not the case, and that the orange could actually compliment my skin tone.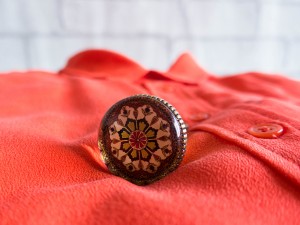 The last one could actually be considered more as a blouse than a shirt (as it has no buttons) but I had to include it in the list as I love it so much. It is part of Balzac Paris's collection and I fell in love with the feminine and sensual fabric as soon as I saw it. However, I waited to buy it and once I tried it was out of stock. Hopefully I contacted the designer who was able to find me the very last one.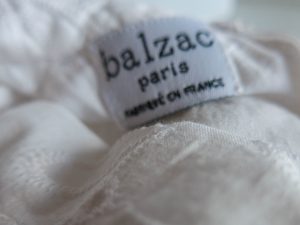 2- Jeans
Who doesn't love a good denim?
The first one in my wardrobe is a striped blue denim I bought in Japan over 8 years ago and that I have been wearing it every seasons since then.
The other one is a vintage jean bought in a thrift shop a few months ago. To be honest I was a bit uncomfortable about vintage shopping before and I had to call in my friend to help me get cured.
3- Striped Jersey (Marinière)
From the fishermen to Jean-Paul Gaultier, the marinière is a classic item that I love to wear.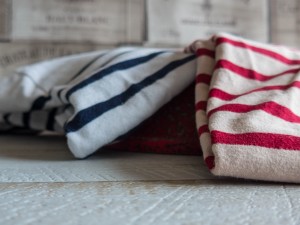 The first one I've got is a red striped and short sleeved that I bought a few years ago when on holidays with my parents. I love its loose shape which is perfect for summer.
The second one is a long sleeved and blue stripes one which was given to me as a birthday present by my fiancé on a surprise trip in Amsterdam. I cherish the memories of this wonderful week-end every time I wear this top.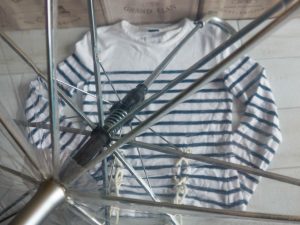 4- White T-shirt
If you were to meet my best friend, she would probably tell you that in summer, I am wearing only a single  white T-shirt… And I guess that this is not so far from the truth.
During summer I tend to associate my skirts and chinos almost always with a white T-shirt. Then I just have to throw in some colourful accessories and I'm good to go!
5- Brogues
There is one thing to know about my style, I really love all the items stolen from the men's wardrobe : shirts, bowtie and of course brogues.
Those comfortable shoes are perfect to achieve a boyish look or to tone down a girly outfit.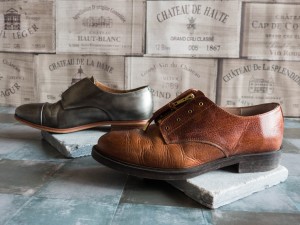 There are two pairs in my wardrobe : a zipped camel one and a metallic pair that I associate with everything from skirt to jeans.
6- Bowtie
I told you that I really love to steal from the men's wardrobe and bowtie is no exception. I have always loved this accessory which perfectly mixes with my beloved shirts.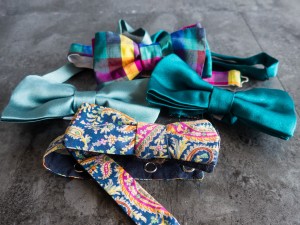 I own four of them. The first one I bought is a colourful madras. I found it in a tiny store in Paris filled with wonders. L'Escalier d'Argent is owned by a lovely lady who knows everthing there is to know about vintage cloth and fabrics. She is ordering from French workshops the reproduction of vintage fabrics taht she then turns into bowties, ties (handmade in France) and vest (unique item, made to order in her shop).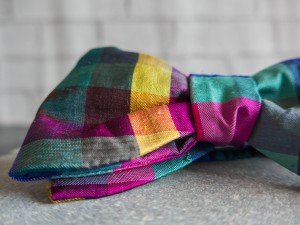 The next one is (again) a Chrstmas present from a shop I really love : Colonel Moutarde. If you are looking for colourful accessories this is the place to go ! and they are handmade in the north of France.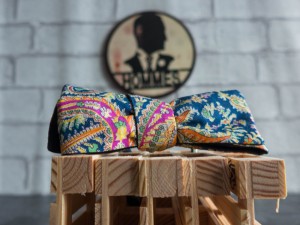 Finally the to remaining ones are vintage Kenzo bowties that were passed down to me.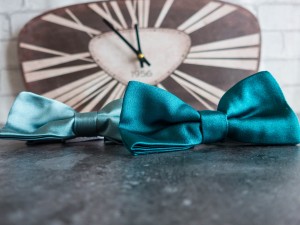 I hope you liked this tour in my wardrobe. Soon I will share with you all the basics that I'd love to have (but failed to find  at the moment).
I will also show you some of my favorite looks using my basics ;)
What about you, what are your basics ?